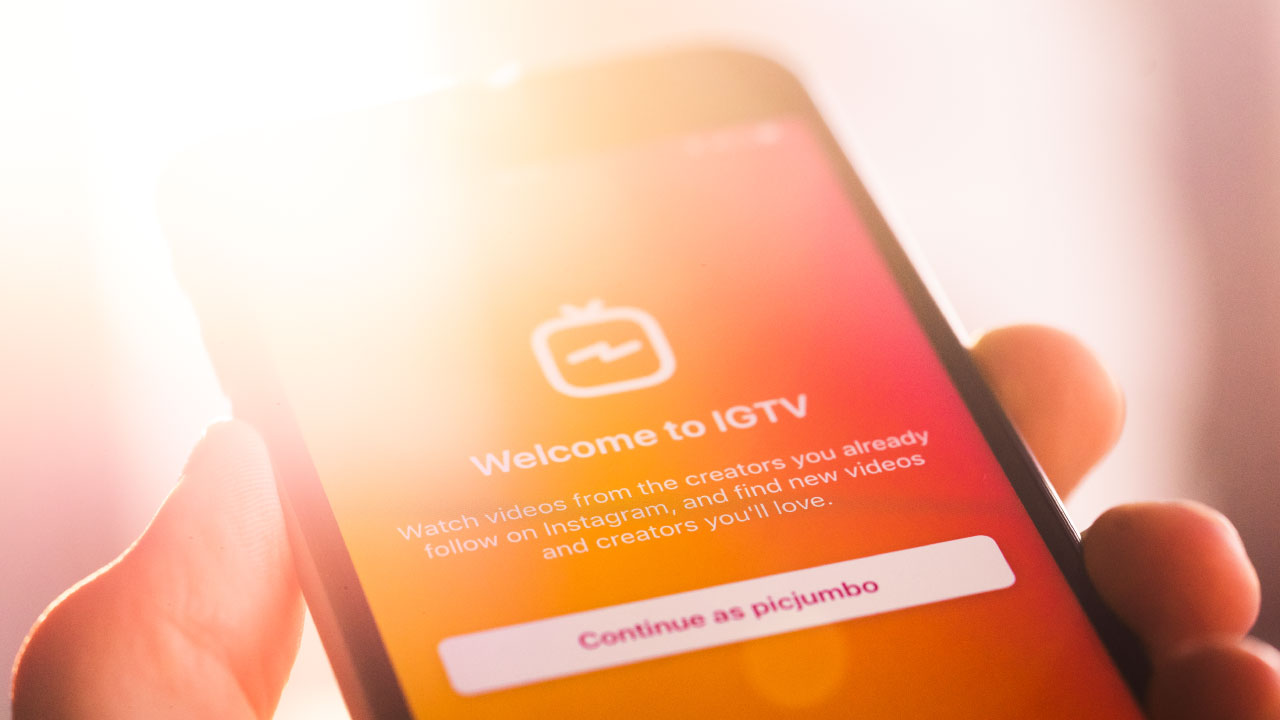 Published at 24.02.2021
Even in 2021 and with over 1 billion users, Instagram has to be careful that their competitors don't beat them to the punch. That's why the app of 2019 doesn't also look like the app of 2018, and the app we'll be using at the end of this year looks different than the one we're currently using. The latest idea to get us users excited: Live Groups.
Instagram video content: what's been there so far
To share video content, there have been several options on Instagram so far. It's been possible for a long time, Videos of up to 60 seconds in the same way as a photo: open the app, create a feed post and simply choose a video instead of a picture. Meanwhile, Instagram has reduced this time to 120 seconds increased.
Additionally, in 2018, Instagram led IGTV on. This standalone app also allows you to post videos that are longer than 60 seconds. For anyone who has downloaded Instagram, IGTV is also available, but theoretically IGTV can be used without the Instagram app. An Instagram account remains necessary, however. Videos of up to 15 minutes in length can be uploaded on mobile, and via the desktop variant of IGTV even 60 minutes possible.
For those who want to create really long videos while also allowing for some closeness or imperfection, Instagram chooses the Live function Here, the video is not created beforehand, but like a Zoom or Skype call, we can be seen live by anyone who follows us (or with the appropriate settings: even those who don't follow us on Instagram).
Many influencers use this opportunity to stay connected with their fans. But also Company have discovered the function for themselves and grant a look behind the scenes or present their products live. The great advantage of IG Live Meanwhile, live streaming is allowed for up to four hours. In addition, questions can be asked within the stream and a Livechat runs alongside and gives viewers the opportunity to interact. Previously, there was also the option to bring another person into the stream - the screen would split down the middle and both people could be in the stream at the same time. Similar to a video conference , only for two people and very public.
What are Instagram Live Groups?
The video format is becoming increasingly popular. Young people in particular prefer to get information via short clips rather than reading long texts. But also the attention span plays a role: we are used to everything being fast and attractively presented.
That's why Instagram is now taking it a step further and saying, "Our Live feature should get better. With Live Groups you can now up to four people at the same time launch a live stream. This is Instagram's response to the streaming hype that is already in full swing on YouTube, Discord and Twitch.
As with a regular livestream, one person must start the Live Group and can then add three more people. Livestreams can also be saved afterwards, so that even those who were not actually there live have access.
Who are Live Groups suitable for?
The feature will be open to all Instagram users. However, not everyone necessarily wants to stream, which is why it is already clear that the innovation is more important to some Instagram users than others.
In the future, companies will rely even more on Live presentations can put. Since shopping on Instagram is easier than ever before, it's only logical that companies work on getting their customers to buy directly. So in the future, we'll see more Live Groups where different people test a product, for example, or even pit multiple products against each other in a live comparison.
Influencers will also be happy to be able to use this new feature for themselves. For more reach are so-called Collabs (short for collaborations) is incredibly important. Until now, influencers had to limit themselves to pre-recorded videos or a maximum of two accounts per user in IG Live. It is safe to assume that we will soon see more and more Influencer Live Groups. This is to achieve that fans of an influencer also become fans of another person - a win-win advertising, so to speak.
Also Prominent will love the Live Groups. The days when we could only see actors perfectly styled on the red carpet and musicians only showed proximity at concerts are long gone. Being close and real is more important than ever. This also includes stars showing who they hang out with or discuss. Reunions of former series stars, live interviews with casts of upcoming movies, or even just private glimpses into conversations that would otherwise remain hidden - all of this will become even easier, and it's expected that Live Groups will soon be as common as regular live streams.
Live Groups were introduced quite spontaneously (wink, wink) in a broadcast by internet great Lilly Singh A Little Late with Lilly Singh There you can see for the first time how to use the new feature. However, there is no official information about it as of yet, when the new feature will be available in Germany. However, given the current situation where much communication continues to take place online, it would be surprising if Instagram kept us waiting for long.